Automation Partners Inc. - Optical Sensor for Fabric Density Measurement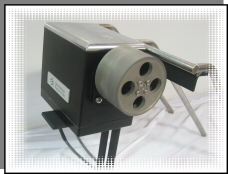 The PSM-200 Sensor System is the industry's most reliable, hands-off, linear density measurement tool. It provides continuous, reliable and completely automatic measurement of pick or course count - no operator experience is required.
Operation is independent of operator skill.
No prior setup or programming for different styles or fabric types.
Not affected by color, yarn size, fabric speed or moisture.
The sensor works on woven or knitted fabrics, open width or tubular, including warp, circular (jersey and double knit), interlock, rochelle, tricor and many more.
---
The Sensor Technology
The PSM Sensor uses monochromatic infrared light reflected from the fabric. Infrared detectors sense the reflection back from the fabric. There is no camera requiring calibration or maintenance and no radiation - no hazard to personnel and no special permits to import or use. Operation is completely operator independent. No operator input or interaction is required. The system is fully automatic, providing reliable and accurate data on a continuous basis without interfering with the other duties and tasks of the machine operator.
The PSM-200 Sensor System provides critical data on your finishing operation, but it is just the first in reaching maximum efficiency and profitability. The basic system can easily be expanded with plug-in options and networked within your production line for advanced capabilities.